ON-SITE SHOW OFFICE PHONE 913.339.3205
The JOCO Home + Remodel Show does not print or mail the Exhibitor Guide. All information can be found in the Exhibitor Guide and the links below.

Exhibitor Guide CLICK HERE
Please note that this page is always being updated as new information becomes available.

Additional Questions?
Contact Ryan McCune, Show Coordinator
816.931.4686 ext. 305 | RyanM@MPEshows.com
2021 SHOW HOURS
| | | | |
| --- | --- | --- | --- |
| | | | Exhibitor Access: |
| Friday | October 29, 2021 | 10:00 am - 9:00 pm | 8:00 am |
| Saturday | October 30, 2021 | 10:00 am - 9:00 pm | 8:00 am |
| Sunday | October 31, 2021 | 10:00 am - 6:00 pm | 8:00 am |
Move-In
Assigned dates & times can be found on the map below. Exhibitors may only drive into the building during the scheduled times. Hand carry or push cart move-in is allowed any time during and/or after assigned times.
General Move-In Hours
| | | |
| --- | --- | --- |
| Tuesday | October 26, 2021 | 9:00 am - 6:00 pm |
| Wednesday | October 27, 2021 | 8:00 am - 6:00 pm |
| Thursday | October 28, 2021 | 8:00 am - 8:00 pm |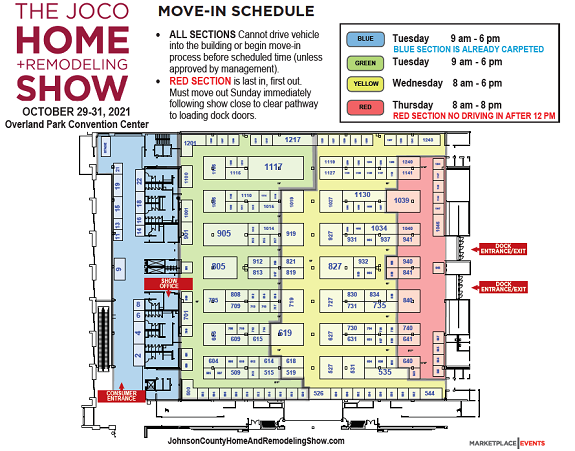 Click Here to Enlarge or Download Map.
Move-Out
Assigned times can be found on the map below. Exhibitors may only drive into the building during the scheduled times.
General Move-Out Hours
| | | |
| --- | --- | --- |
| Sunday | October 31, 2021 | 6:01 pm - 11:00 pm |
All Booths must be removed Sunday, October 31st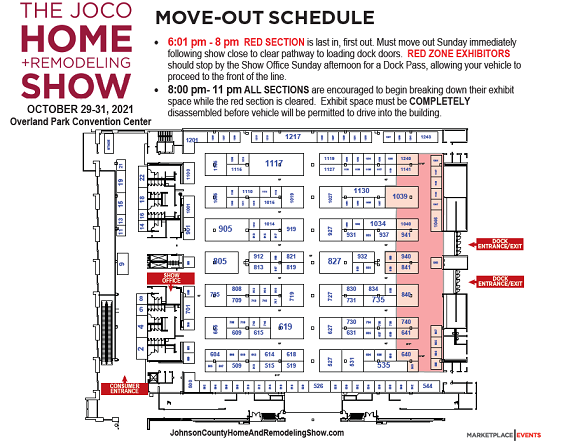 Click Here to Enlarge or Download Map.
Show Decorator | George Fern Company
Exhibitors are responsible for flooring (required for all booths.) You may supply your own tables and chairs or rent from the show decorator. An advanced purchase discount is offered.
As an exhibitor, you will automatically receive an introduction email from Fern with instructions on creating your password in OneView.

After you've logged on and created an account you will be able to order services online using OneView. Please e-mail Fern Exhibitor Services at exhibitorservices@fernexpo.com should you have any questions or if you need to have the introduction e-mail resent.
Click Here for a video tutorial of Fern's OneView.
Discount Deadline is October, 20,2021
Electrical | Plumbing | Telecommunications | Internet
To purchase any of these services please visit the Overland Park Convention Center website or contact Exhibitor Services at 913.339.3000. An advanced purchase discount is offered.
Order Online
Discount Deadline is October, 18, 2021
Food Sampling
The City of Overland Park requires that all exhibitors sampling food during the show have a temporary food service permit.
To apply for a temporary food permit click on the button below. Application and payment can only be processed online directly with the City of Overland Park.
2021 JOCO Home + Remodeling Show Event SEP2022-00234
Contact Stacie Mackey, City of Overland Park
913.895.6347 | stacie.mackey@opkansas.org
Application Deadline is October 14, 2022

Insurance Needs
Our shows have all been set up so exhibitors can apply using this link: https://www.buttine.com/eventExhibitor.html

A few things to be aware of:
Exhibitors will have to pick the show from a drop-down list that includes shows other than just those run by MPE.
Marketplace Events is not selling this insurance and doesn't profit from it in any way. This is simply a resource for those exhibitors who don't already have the required insurance coverage per their contracts. They do not have to purchase this.
The Insurance clause is #5 on the Terms and Conditions page of all booth space contracts. For easy reference, exhibitors are required to have:
Comprehensive General Liability and All Risk Property insurance
Coverage must be from the start of move in to the end of move out
Coverage of at least $1,000,000 for each separate occurrence
Name Marketplace Events LLC and the venue as additional insured
Provide a copy of certificate of insurance to MPE
Contact Kendra Reilly Monahan, Buttine Underwriters Purchasing Group, LLC
212.867.3642 | kar@buttine.com
Application Deadline is October 19, 2021
Kansas Sales Tax Information
For information regarding sales taxes prior to the event please visit the Kansas Department of Revenue Division of Taxation website. The Special Event Tax Account Number will be available at the On-site Show Office.
Click Here for Retailers' Sales Tax Registration Event Certificate
Parking
Parking is free. The covered parking lot is for exhibitors and facility staff on a first come first serve basis. Once the covered lot is full, please park at the far end of the north lot, leaving the closer stalls open for attendees.
Hotel Information
We have negotiated discounted rates at the following hotels:
Sheraton Overland Park Hotel at the Convention Center (attached to OPCC)
6100 College Blvd
Overland Park, KS 66211
913.234.2100

Connected to the Overland Park Convention Center
Click Here to reserve your room for $127/night
Booking Deadline is 5pm CST, October 11, 2021

Additional Exhibitor Badges & Discounted Show Tickets
Click Here
HOW-TO ENHANCE YOUR COMPANY'S ONLINE EXHIBITOR LISTING
Your basic listing will be uploaded to the website when you book your booth. Within 24 hours you will receive an automated email to enhance your listing. This link can be used multiple times and you can make updates and changes to your listing until ONE day after the show commences. If you have any questions regarding the online exhibitor listing or do not receive the link, please email RyanM@MPEshows.com.
Need help with your listing?
View the tutorial video - https://youtu.be/ecSxq1oKuYg and the FAQs.
Social Media
connect with us!
Promote the show and YOURSELF on Social Media.

We'd prefer if exhibitors did not make their own Facebook Event, but we'd love if you joined ours! We can make you a co-host, so our Facebook Event will appear on your Facebook Page. You can also share the Facebook Event regularly. You can post show specials and business information in our Facebook Event regularly. It's the best place to connect with our attendees prior to, during and after the show.
Click Here to go to our Facebook Event for 2021.

In addition to using our Facebook Event to your advantage, consider submitting an Exhibitor Spotlight. We'll use your answers to create a blog that will appear on our show website, and be shared on Twitter and in the Facebook Event.
Click Here to fill out the Exhibitor Spotlight form.


If you plan to update your booth's showroom pieces or do not want to ship inventory back to your company consider donating it to Habitat Kansas City ReStore.

1. Donations are tax deductible – donation receipts provided
2. Save the cost of shipping
3. Help reduce items going into landfills
4. Habitat will collect the donations Monday morning after the show
5. 100% of ReStore's profits go to help Habitat for Humanity of Kansas City build homes, communities and hope in the Kansas City area

Jenna and Kari, our friendly ReStore Donor Managers, will be happy to answer any questions about donation criteria, get you signed up for a donation pickup or step you through the easy process

Jenna Brown
816.678.7600 | jbrown@habitatkc.org
Kari Tripses
816.591.9806 | ktripses@habitatkc.org